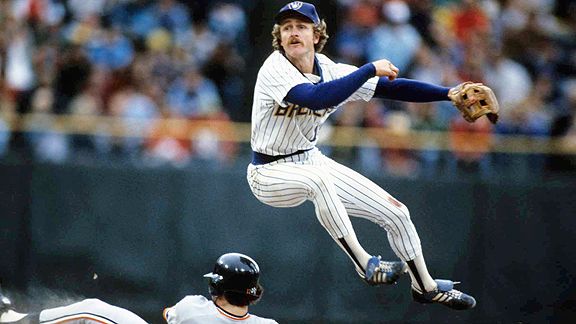 Robin Yount just barely qualifies as a shortstop.  Played the first 9 years at shortstop for Milwaukee and the last 11 in centerfield after a shoulder injury wouldn't let him make the throws needed at shortstop. All star at both positions and voted to the Hall of Fame in his first ballot, 1999.
CSN City Game:  All the rules and regulations are now posted, and everybody knows exactly what to do and how to play the game.  Oh, boogers.  That item was supposed to run on April 1st.
Nothing has changed at CSN City, but people are starting to accumulate buildings and residents for their town (at least I presume that is what they are for).  I see on Twitter that some people are getting some of the items to be shared (they look like people.  They are called items) but have no clue how to do so myself.  Anybody know??
Jon Olson spent much of the last week in the San Francisco Bay area.  I have it on solid information that they let him in and out of Alcatraz among other things.  I really hope he had a good week, but brother, do I miss TE Live.  I admit, I am a TELive junkie.
Nick Grimshawe is en fuego (on fire).  His post about how to organize and pursue an advertising campaign is epic. If you haven't read it yet do so here.  Very successful advertising on a very small budget.  You really need to see it.
I gaze deeply into my crystal ball and think we will hear something from Sunny Suggs this week.  Watch for it, I think you will like it.
On a very personal note, it was 50 years ago this week (I'm not sure the exact date) that I got my first motorcycle.  There have been a lot of miles and a lot of smiles since then.
Robin Yount was a proponent of weight training (almost unheard of in baseball in the 70s) and improved his offensive numbers enough over his career to send most players to the weight room.  Innovation was an important part of his game, and should be an important part of mine.
I'm just sayin'
Please follow and like us: