The Funnel Revisited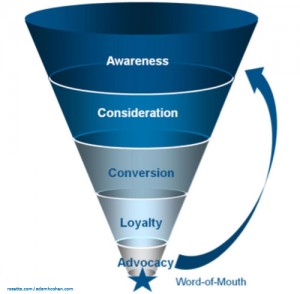 The PTC funnel is different than the TE model In several ways, but completely the same in many, too.
You remember the funnel concept, don't you?  It's a fundamental part of marketing in general.  Put X number of prospects in the top of the funnel, and through a series of intermediate, qualifying steps, you end up with a single, laser targeted customer.
More people in the top means more targeted customers at the bottom.  Real straight forward.  Prospects in the top, customers out the bottom.  Everybody is happy.
The PTC Funnel
Advertising in a Pay to Click has different needs and results.  PTC customers are, by definition, in a hurry and motivated by money.  It's what brings them to sign up at a PTC in the first place.  Any advertising you do better take these to factors into account.  You had better make your offer fast, and hold out at least the promise of the ability to make money directly from your offer.  Those are the first two keys to success.
PTC sites deal with a staggering number of participants every day.  Even a new site like Tim Tech's Nerdbux will consistently generate 10,000 views per ad every 24 hours.  Comparatively TT's hottest TE, I Love Hits generates just over 1000 views per URL per day.  Big difference.
The Secret to the Funnel
What is the secret to monetizing the advertising at a PTC?  Numbers.  Great, huge, enormous numbers for those of us from the Traffic Exchange world.  We need to pour way more PTC prospects in the top of the funnel to get the same rate at the bottom.  Or is there something else?
I believe there is another way to think about the funnel and the way to maximize it's use at a PTC.  I like to look at the PTC as another level at the top of the funnel.  Another much larger ring that will hold WAY more prospects as they make their way down and through my funnel.
The Conclusion
The same funnel will work just fine at both places, it's just that the PTC prospects will probably go into the funnel above your TE prospects.  You may have to patch some leaks in your funnel before it is optimized, but that is true no matter what.  It's a big numbers world, and a lot more people will drop out of the funnel earlier with PTC prospects, but the process remains the same.
And in the End
So far, in my research, I haven't found a better single source for information on PTCs than Eric Goettman's PTC Professor.  If you are only going to use one source for your information, this is it!
I'm just sayin'
Please follow and like us: