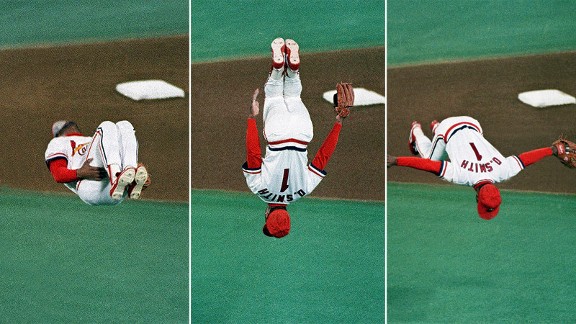 Ozzie Smith. Just the name brings up magic (not to mention the back flip) on the baseball field. If there is a Yoda figure in all of baseball it has to be the Wizard of Oz…
Another in the blockbuster series from TimTech. Click Track Profit has turned 3 years old, and to celebrate, TimTech ran out another badge hunt. So far, this one looks to be the best one yet. Results from badge holders show results ranging from real good to unbelievable. I know my results are certainly in the real good to extraordinary category.
A byproduct is the increased activity at CTP, pushing membership ever nearer to 100,000. Also, for those of us who are upgraded members of CTP there has been a clear upturn in Random Referrals. Always a good thing.
Once again, Sunny Suggs and I are running a support site to a badgehunt. You can get a spreadsheet that makes keeping track of your badges easy and a daily update blog that will let you know what is going on. The happening place to be for all things CTPis3.
Note the website: This is a good example of the sort of site that Sunny can and will build for you. Having had it both ways, the Sunny option is way better than 'Tom Built'. She is fast, experienced and inexpensive. She will even host it for you!! Find out more at BuiltJust4U. Best deal on the innerweb.
CTPis3 Badges
The Good
Quite a few really creative badge clues in this year's contest. Several people used rhyming clues, and several badges were given creatively…
Like John Novak, 2 badges were used to get people to give charitably at Kiva and TE cares.
Lynn M launched a new product with a badge. Win $10 with Lynn. Virginia Herron has people write a blog post for her site (not that I know anyone that would do that) and Sunny Suggs had the 'funnest' badge clues ever!
The Not So Good
There are a few in the hunt that are just too complex and hard for most people to get. A couple of 'buy my stuff' badges that won't get any play from me, and a couple that are just not very well thought out…
So, it turns out the whole page was about the CTPis3 promotion. That's OK, Ozzie would understand. When it was time to perform, The Wizard of Oz was laser focused and up to the task. Long term focus is a good thing for business, too.
I'm just sayin'
Please follow and like us: